Bottling Energy: Conserving Creativity
Thank you for being part of Flying Ketchup Press. You submitted, you read, you bought books, you took part in a book launch, blogged or told your story. And most of all, you created something new. Something powerful. You shared insight, creativity and energy. You showed a bold face and you kept on. We are celebrating strength this year and that is you!
So, here are some quotes from you over the past two years of Flying Ketchup Press and a list of our 2021 plans and goals:
Begin a podcast, Ketchupedia: word of the day (Enter a word, deadline Jan 17th)

Open up memberships for you to advertise your editing, writing and creative gig work

Add a few imprints to our press so we can continue to reach a wider audience

Introduce new interns from Northland Caps in North Kansas City, and from Greenville University in Illinois

Feature spotlight poet or artist of the month from our Fast Forward contest, deadline Jan 31st

Continue our weekly blog about Relishing the Writing Life

Create a few digital magazines or other small chapbook projects

Publishing our books through Ingram Spark so they will be available to more bookstores and libraries.

Begin our new "Pass it On" Poetry Editor's in Residence Program

Release three picture books, one Folk Story & Poetry Anthology, "NIGHT FOREST." featuring illustrator Elsa Kittrel and TALES FROM THE DEEP, featuring artist Alex Eickhoff as well as a few short story collections.

Offer online poetry readings to celebrate our calls to poetry online.

Put out interesting and inspiring calls for art, spoken word videos, short fiction and poetry that help us harness both the past and present into a creative future, and lift up creatives to keep doing great work.
Thank you notes we received from our customers, authors, submitters...


"Of all my 20 plus anthologies I've been in, yours is still the most gorgeously published."
~A.F.
If you bottle or package your creative energy, I'll buy some!...Thank you so much for all you do for authors, the arts community--where do you find the time. KC is lucky to have you.
— G.
This fire ignited inside me lights a way for my passion to stop hiding. It's exciting. —T.L. Sanders
I would be honored to have you publish this story! This is one of my personal favorites that I've written and I am thrilled that it has found a home.
—Matthew
I am incredibly elated!!! I'm so looking forward to working with Flying Ketchup.
—S.M.
Thank you...for the work you're doing in the arts community with #flyingketchuppress. You are tireless, fearless, boundless in imagination and in your drive to collaborate in unprecedented ways.Thank you for the good you midwife into the world.
–Mary S.
Thanks, Flying Ketchup. I see that publishing an anthology is a lot more than just choosing the poems and photos! I really appreciate you letting us see the proofs. Not everyone does that.
— Janet
Thank you so much for allowing me to intern with you this past semester. It's been a great experience and I was able to learn a lot this year. I enjoyed working with you and I appreciate your time. Thanks again for everything.
—L.M.
It's finally underway! I am an author in the studio working on the Illustrations with Flying Ketchup Press Publisher!
—Danielle
WoW! FKP is doing big things!
—Author
I think your projects are wonderful. There's something open and inviting about you all at FKP. What zeal, enthusiasm, and energy! Brava!
—Malcolm G.
I am beyond excited that you like my poem "Kansas"—it means a great deal to me, and I think you are the perfect home for it.
—M. Goodnight
I reworked this poem with your suggestions in mind. The poem seemed to work better....made me feel more powerful. Thank you for your consideration.
—Tara
And this has inspired me to start writing a complementary musical...I'm excited about the possibilities.
—J.C.
Thank you for accepting my submission...I've thought of doing a poem...but just haven't had the time. This could be the fire under my feet.
—W.D.
Many thanks for the in-depth review of this story. I'm a self-taught author and I appreciate every word you wrote. One of my goals is to learn from every submission. Most of the time, I get a standard rejection letter, but you took the time to help me make this story better. I can't thank you enough!
—Mike
Thank you for this glorious news—truly an orb of light during the virus darkness.
—KMH
I am so happy, this is my first publication! Thank you so much!
​
—Katie
How gratifying to have a collection of writing named after my poem "Night Forest" in addition to being selected for the Vision Award. Thank you from the bottom of my heart.
—Gary Beaumier
Your acceptance of two of my poems for Sprouts gave me the impetus to begin a campaign to release more of my work into the ether. So thank you! —Submitter
I love the subjects you come up with for your anthologies...I'm already working on something to submit for your "blue poetry" project.
—Submitter
I am delighted to win the Button Poetry Prize. Thank you. I love
the name, Flying Ketchup.
—D. Glancy
Thank you for including us in this anthology. We all owe you a great debt for including us in this project. Ten deep bows.
—Paul Dresman
Thank you for taking the time to look at it. I appreciate the feedback. It's always constructive to hear how a piece reads to another eye. Love what you guys are doing. I'll definitely be submitting for future months.
—Austin
Thank you so much for the copy of the poetry book and the beautiful, thoughtful note. I love the entire collection and I'm so proud to be part of it and proud of you for putting it together.
—Frances
Thank you for this brightness in the darkness.
—Katharyn
Thank you for this exciting news; I'm glad to hear that you enjoyed this story and appreciate the suggestions!
—Writer
Super excited for this!
—Eloísa
I really enjoyed listening to your interview on Artspeak Radio. I loved what you said about accessing language through writing rather than speaking. Thank you, again, for including my work in "The Very Edge." It was lovely to hear Mark Manning read my name on the air.
—Samantha Malay
I was overjoyed to be spotlight poet!
—G.M.
...last year after my birthday, I had an epiphany…. [to] take myself as a poet and fictions writer seriously. And next year my science fiction short story "The Red Wolf Incident" will be published in a book of short stories by @flying_ketchup_press. I'm excited….My work is still just beginning. I have big goals and big dreams, let's see where those will lead."
@reevesandroses
...even thought that was a rejection email, it was a very interesting one. Thanks for the time and effort you put into this. I've had a look at what you lot do - looks cool. I'll have a go at some of your other comps.
Cheers, LG :-)


I
Our Press was most recently featured in an Indie collection The Story Behind the Stories, featuring your publication by A. Fawns, one of our authors featured in Tales From the Dream Zone (2020) who interviewed our managing editor saying that of the 20 some short story anthologies she's been published in, ours was the most "gorgeous." She writes, "With over 500 rejections and three years researching the market, find out how I overcame the "No's" and finally found homes for over 30 short stories." Sounds fascinating. Can't wait to read this!
Our goal is to put artists first. So thanks to artists, Kevin Callahan and our managing editor, Polly McCann for their artistic eye in designing great books that promote high quality art, design, prose and poetry.
What are we looking for this year? New poetry, art, and short fiction that celebrate authors from the past, or a take on how their vision might have been a little different in today's world. Poetry about Strength. We will have new prompts every month and deadlines are Midnight CST on the last day of each month January through June. Submit today!
Read our most Popular Blogs from 2020
Flying Ketchup Press ® grassroots and artist-run, we are a trademarked small press in Kansas City using traditional and hybrid publishing formats established to develop new and diverse voices in poetry and short story. Our dream is to salvage lost treasure troves of written and illustrated work-- to create worlds of wonder and delight; to share stories. Maybe yours.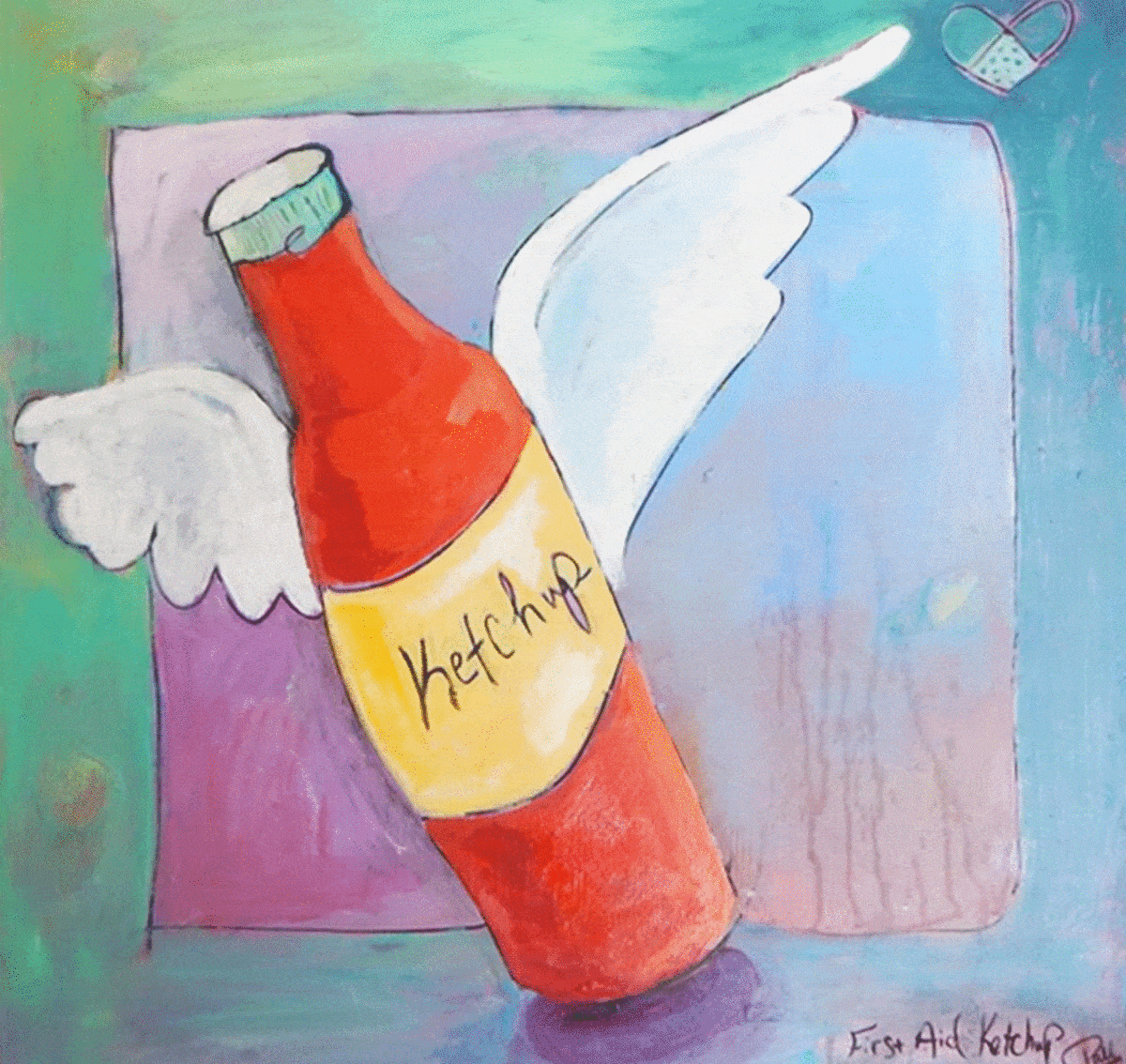 At Flying Ketchup Press, we believe that providing more platforms for new and diverse work inspires more creativity, encourages creative communities, and keeps great work from getting "lost" in a drawer. The ketchup stands for helping creatives catch up!